New Box Set from Sloane Taylor
From: "Quarterly Newsletter" <newsletter@PROTECTED>
Subject: New Box Set from Sloane Taylor

Now Available
Naughty Ladies of Nice Box Set
Treat yourself to a mini vacation on the French Riviera with five fun-packed books where intrigue, romance, and Haute cuisine collide to create erotic adventure.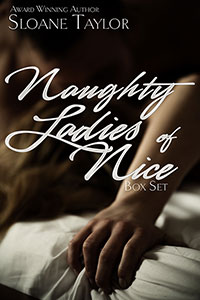 French Tart Book 1
Bon Appétit...
Satisfy all your cravings at cooking school.

Determined to prove herself and shed her party girl image, Donatienne Dubois pins her hopes on the exclusive cooking school in Nice, France. One by one her expectations are shattered by a foul-mouthed parrot, a bogus Michelin chef, and a headmistress with a heart of tungsten steel. Doni's lifesaver is a bad boy hunk too hot not to handle.

French Delight Book 2
Fantasy blooms in a garden of wicked delight.

Lisette is less than thrilled about spending a month at a moldering chateau on the French Riviera with only some dried up old scientist for company. However the hot man in dirty jeans tending his scraggly trees proves more of a garden fantasy than the nerd in a lab coat.

French Twist Book 3
Spies and lies bring a deadly twist to the City of Lights.

Interpol agent Claudette D'Laquois is trapped in the hellhole of life and unable to trust anyone. Desperate to regain control, she flees to the safety of her uncle's rundown chateau on the French Riviera. But Claudette soon learns the countryside has its own dangers when she finds herself alone with a sexy foreigner.

French Kiss Book 4
Who needs safe and boring when you can play with a pirate on the French Riviera?

Burned-out author Rachel Conklin sparks her creativity on the French Riviera as a fishing boat cook. Things are smooth sailing until she's thrown overboard into a storm-tossed sea. Rachel awakens to find herself staring into the eyes of a sexy pirate-looking hunk who changes the course of her life forever.

French Tickler Book 5
Lace and handcuffs...tools of the trade.

New Yorker Samantha Bradley has a fun, sexy career designing ladies lingerie. Now that her business is on the rise, she treats herself to a well deserved break on the French Riviera where the women are glamorous and the men are gorgeous. After a few days Sam is eager to sample more than just the local cuisine.

Buy Now:
Amazon | Barnes and Noble | Kobo | All Romance | Smashwords
Happy Reading!


www.sloanetaylor.com

This mailing list is a public mailing list - anyone may join or leave, at any time.

This mailing list is announce-only.
This is a quarterly newsletter and announcement list only. No chatter, so no clogging your inboxes.
Privacy Policy:
Your information is private and will never be sold.