Sloane Taylor's Quarterly Newsletter - November 2015
From: "Quarterly Newsletter" <newsletter@PROTECTED>
Subject: Sloane Taylor's Quarterly Newsletter - November 2015

Hard to believe, but the holidays are almost here! They barrel in faster with each passing year. Are you ready or even started on prepping? Studs and I sure aren't. We definitely need to pull ourselves together before we have six disappointed grandchildren.
It's Time To Celebrate
Last issue our contest was to email me with NEWSLETTER in the subject line for a chance to win a copy of French Delight. Two names were drawn. And the winners were:
CHERYL
LADY BANDIT
Thank you to all who entered and please play again this newsletter.
Good News
French Tart, Book 1 of Naughty Ladies of Nice, is now FREE for a limited time.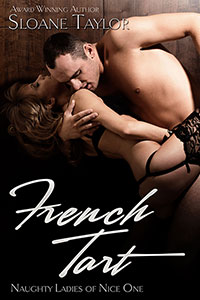 Bon Appetit...Satisfy all your cravings at cooking school.
Determined to prove herself and shed her party girl image, Donatienne Dubois pins her hope on the exclusive cooking school in Nice, France. One by one her expectations are shattered by a foul-mouthed parrot, a bogus Michelin chef, and a headmistress with a heart of tungsten steel. Donni's lifesaver is a bad boy too hot not to handle.
Mark Anderson is incognito and hating every moment. To pose as a student while keeping tabs on a rich wild child is his version of hell, until he partners with the dish of Creme Brulee good enough to eat.
Class takes on a whole new meaning as Doni and Mark heat up the kitchen when they discover honey has better uses than sweetening tea.
Claim your FREE download links:
Amazon | ARe | Barnes & Noble | Smashwords
Next Good News
French Tickler, Book 5 of Naughty Ladies of Nice, is now available.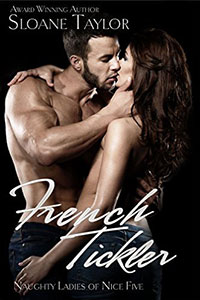 Lace and handcuffs...tools of the trade.
New Yorker Samantha Bradley has a fun, sexy career designing ladies lingerie. Now that her business is on the rise, she treats herself to a well deserved break on the French Riviera where the women are glamorous and the men are gorgeous. After a few days Sam is eager to sample more than just the local cuisine.
Cisco Bernier is France's key criminal prosecutor, but his courtroom charm falls flat outside the hallowed halls of justice. From family relationships to romantic trysts, his success rate is abysmal until a chance encounter with a sensuous American businesswoman spins his staid world out of control.
Sam and Cisco sizzle together, but any future is threatened when their pasts collide. Her mob-connected father and his deceitful mother resurface and drag them into a corrupt world of lies and danger.
Buy Now: Amazon | Kobo | Smashwords
Introducing
The outstanding teacher who taught me all I know and encouraged me to give up my day job and be a fulltime author, Jan Springer. The Queen of Hot is a NY Times Bestselling author and a wonderful person. Her latest Boxed Set, PLEASURE BOUND, is an erotica fantasy romance and includes the first five books in the Pleasure Bound series.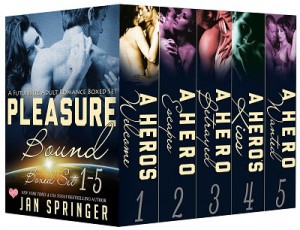 This set includes:
A Hero's Welcome - Why is Dr. Annie welcoming injured astronaut Joe Hero into her bed every chance she gets?
A Hero Escapes - Queen Jacey's forbidden fantasies are becoming reality and she can't get enough of well-hung Ben Hero's sizzling lovemaking.
A Hero Betrayed - Fugitive-on-the-run Virgin must save Buck Hero who has been infected by a deadly virus. The cure? A twenty-four hour making love marathon! But then she must betray him...
A Hero's Kiss - US Astronaut Piper Hero is rescued by a dangerous one-eyed stranger. Why can't she keep her hands off his luscious whip-scarred body?
A Hero Wanted - A Hero is wanted for plus-sized Jenna who is finally able to explore her intimate side...and menages are welcome.
Buy Now: Amazon | Barnes & Noble | Kobo | Smashwords

Jan Springer lives in Ontario, Canada and writes full time. She enjoys kayaking, hiking, photography and gardening. She is a member of the Romance Writers of America, Passionate Ink and The Author's Guild. She also loves hearing from her readers.
Learn more about Jan Springer on her website and blog. Stay connected on Facebook and Twitter.
On A Personal Note
Christmas Eve is our annual sit-down dinner for twenty friends and relatives. Each year I choose a holiday menu from a different country and do my best to recreate those recipes. Our guests bring the appetizers and desserts which is a blessing. If you ever had the misfortune to taste my baking you would agree. And our wonderful friend Carl supplies the wine. This year is Studs decided we should have a Christmas picnic like they do in Australia and New Zealand. Interesting concept. Do you have suggestions on what makes a great picnic meal? If so, please email me. I appreciate your help.
Contest
It's time for another Newsletter Members Only Contest. We're staying with easy because that's what we all like. There will be 25 winners. Yep, that's right 25 because we're celebrating my birthday and the holidays. The prize is a free download of any book from my list. You can see all the titles and read excerpts on my website.
To enter, simply email sloanetaylor@comcast.net on or before December 15. Please type NEWSLETTER in the subject line and your choice of book along with the format in the body of your email.
As always, I love to hear from you. Feel free to email me, sloanetaylor@comcast.net, anytime.
Thank you again for allowing me to update you on my life. I'll be back in February. Until then...
I wish you all Happy and Safe Holidays!


www.sloanetaylor.com

This mailing list is a public mailing list - anyone may join or leave, at any time.

This mailing list is announce-only.
This is a quarterly newsletter and announcement list only. No chatter, so no clogging your inboxes.
Privacy Policy:
Your information is private and will never be sold.